Improv and Storytelling are like two siblings who can't stop chattering.
In this show, Chatterbox: Improv Meets Storytelling, we'll all hear some compelling stories for the first time, and then our improvisers spin the ideas and themes from those stories into some awesome comedy scenes for you!
Sometimes the stories are from a special guest, sometimes we'll ask the audience for stories, sometimes a professional storyteller, or sometimes it's our own improvisers -- but any way it goes, you get a little bit of improv and a little bit of storytelling!
This month's special guest is romance writer Kristan Higgins!
Kristan Higgins is the New York Times, USA TODAY, Wall Street Journal and Publishers Weekly bestselling author of 19 novels, which have been translated into more than two dozen languages and sold millions of copies worldwide. Her books have received dozens of awards and accolades, including starred reviews from Kirkus, The New York Journal of Books, Publishers Weekly, Library Journal , People and Booklist. Her books regularly appear on the lists for best novels of the year. Kristan is also a cohost of the Crappy Friends podcast, which discusses the often complex dynamics of female friendships, with her friend and fellow writer, Joss Dey. The proud descendant of a butcher and a laundress, Kristan lives in Connecticut with her heroic firefighter husband. They own several badly behaved pets and are often visited by their entertaining and long-lashed children.
This Chatterbox's cast features Sea Tea Comedy Theater's 2-person improv teams, the Daring Duos! The members of Magical Boy Transformation (Josuel Rosario & Josh Wells), Skeleton Crew (Robert Bartels & Sam Felice), and Dark Horse (Steven Beauchem & Jessica Latta) will team up with Chatterbox host Julia Pistell in an improv set based on stories!
Then, see 2-prov improv sets by Slug Teeth (Sarah Babski & Nate Szymanski), BOOP! (Chris Dube & Jenny Drescher), and Wry BrEd (Brooke Ferguson & Ed Richters)!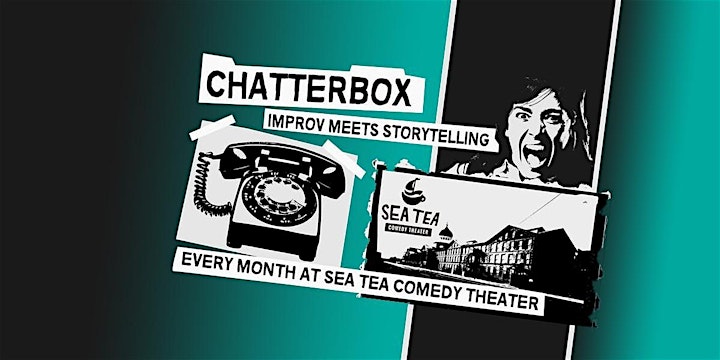 Past Chatterbox guests include radio host/columnist Colin McEnroe, CNN analyst/former FBI agent Asha Rangappa, rapper/punk-folk musician Ceschi Ramos, slam poet Mind.Evolution., a group of mall Santas, a James Joyce scholar, cat stories, a taco restaurant chef, sketch comedians Girl-ISH from Chicago, Dr. Evan Cantor, a ukelele-playing storytelling chemist, the eclectic Quagan Family, improvisor Morgan Miller, stand-up comedian Rob Santos, LEGO Master Builder Dan Steininger, a literal baby, artist Lyndsey Fife, the Culture Dogs, Destination (a barbershop quartet), the Other People's Stories series, stories from our audience, and more!