Ever been in a scene that feels stuck, unfun, or confusing? Let's use a Troubleshooter and unstick that stuck scene!
Normally in classes we try to do the correct thing to get to a good scene, yet making mistakes is key to learning. Instead of learning indirectly, let's intentionally do badprov!
We'll make weaker choices. We'll add mayhem. We'll get stuck. That's right, we'll deliberately create scenes that are:
Inactive
Unfun
Confusing
Unbelievable
Filled with denials of all kinds
And way too serious
After exposing ourselves to badprov, we'll employ a Troubleshooter to give us actionable options. Then we'll practice applying these in scenes. Establish new tools for your toolbelt, and shift your scenes into stronger gear!
This is the second workshop in the Scene Doctors workshop series, a series focused on trying experimental ways to analyze, diagnose, and improve improv.
About the Instructors: Established May 2016, Robot Love is one of the original house teams and performs slower, character-based deconstructions and montages at Sea Tea Comedy Theater.
David Zboray is an instructor at Sea Tea Comedy Theater. He studied at Sea Tea Improv, Upright Citizens Brigade, and Will Hines' World's Greatest Improv School and performed on teams HAT (BAT style), Fruits and Veggies (musical improv keyboard accompanist and occasional singer), and Left Brain Right Brain (2-prov). He's read numerous books about improv and taken 49 workshops at various schools and improv festivals (yes, he counted).
Kevin Sullivan studied at Sea Tea and Playhouse on Park. He performed with multiple other improv troupes, including Tick Tick BOOM!, Damn Fools, and History of the Future. He wrote, acted in, and produced numerous sketches and co-produced a couple shows at the Hole in the Wall Theater in New Britain, CT. His love of improv is so strong that he officiated a wedding for 2 improvisers, Ed and Brooke.
Ed Richters started improv in 2015 with Sea Tea. Always the improv pirate, Ed sails the choppy seas in search of bold choices and zany characters. He ran a successful open mic series out of a comedy club in his basement, does stand up occasionally, performed with the improv team History of the Future and Wry BrEd, taught improv as the Managing Director at New Britain Youth Theater, is the part-time Front Of House Manager at Sea Tea, and teaches comedy concepts as an Artistic Instructor at Greater Hartford Academy of the Arts High School.
Angela Parker studied at Sea Tea Improv and has performed with the improv team STOAT. She has taken multiple workshops and regularly practices one of the most challenging forms of improv–teaching K-12 students.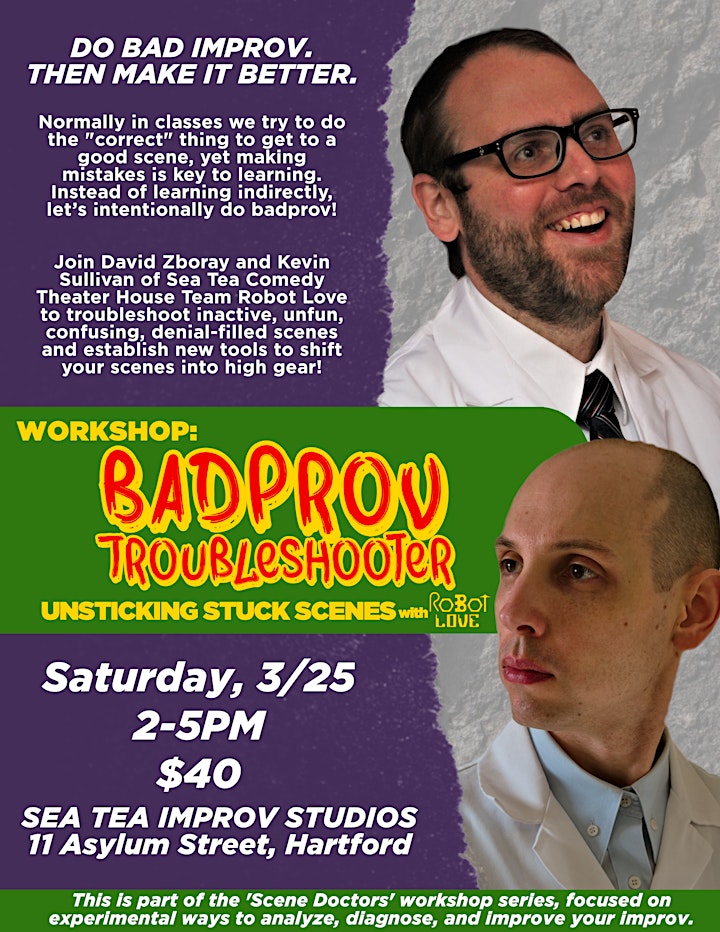 All Sea Tea Improv courses and workshops are subject to our Education Policies: Education Policies