Comedian Tristan Miller's rapid-fire observations about mental health, growing up in the Midwest, as well as a grab bag of absurd characters
Offering up rapid-fire observations about mental health, growing up in the Midwest, as well as a grab bag of absurd characters, comedian Tristan Miller shares their experience with Bipolar Disorder.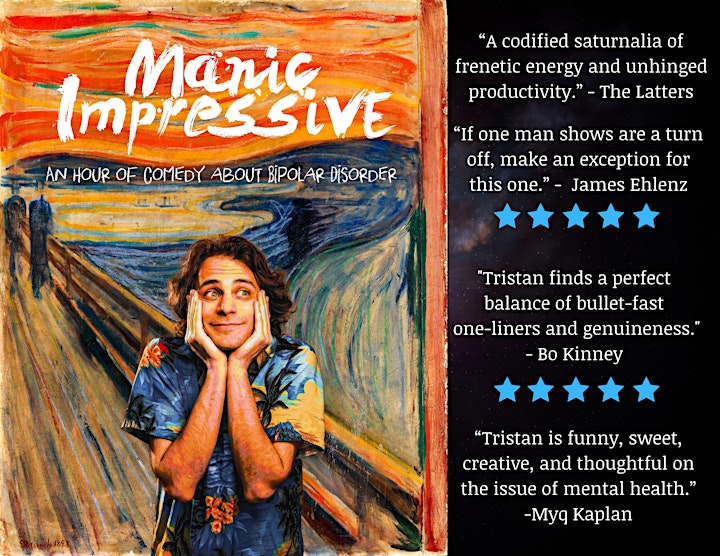 Topics Covered: Types of Bipolar Disorder, family dynamics while mentally ill, homeschooling, anxiety, manic episodes, depression, suicide, medication, coping, therapy, and sobriety. Tristan covers what are generally considered to be heavy topics, making light of them with warmth, consideration, and a sharp wit.
"I believe that laughter is the first step towards empathy. Through this hour of comedy, I hope to educate, enlighten, entertain, and create empathy for those who live with mental illness. My goal is to start a conversation about mental health. My hope is that those who are living with mental health issues will feel more welcome to share their story." - Tristan Miller
Praise from industry for "Manic Impressive"
Myq Kaplan says, "(Tristan) is funny, sweet, creative, and thoughtful on the issue of mental health..."
Craig Fox says, "You'll leave the show manically impressed with Tristan Miller. Biting satire, enlightening premises, and mind bending punchlines. Don't miss this stand up comedian."
Allie Demopoulos states, "Tristan Miller's Manic Impressive is just that. Impressive. A comic talent unlike anyone I have ever seen, Tristan takes the stage to tackle the voices in our heads, bringing awareness to an issue that is deserving of the spotlight. Sharp, witty, and undeniably unique, Tristan brings the audience on a roller coaster of the mind in a hilarious and thought provoking experience you won't want to miss!"
Praise from audience for "Manic Impressive"
"...a codified saturnalia of frenetic energy and unhinged productivity." - CW Headley
"...presented so well that I was 100% engaged." - Carrie Fiedler
"Tristan is a charismatic and engaging performer, and his show, while about the serious topic of mental illness is funny, clever, and thought-provoking. Worth your time." - Heather Baldwin
"To be brief, Tristan Miller's stand-up show Manic Impressive was... both. An entertaining, informative and quite circuitous tour through a brain that can make his life challenging sometimes - 5 stars" - Matthew A. Everett
This was an excellent solo piece. Tristan finds a perfect balance of bullet-fast one-liners and genuineness. He's a talented and engaging performer and the subject matter is important for audiences to be hearing, and laughing about. - Bo Kinney
If one man shows are a turn off, make an exception for this one. Tristan is incredibly talented and you will love to hear about all of his problems! - James Ehlenz
Tristan Miller is an actor, writer, podcaster, stand-up comedian, and mental health advocate. He has been featured on The Good Men project, Stigma Fighters, The Psych Show, and has begun touring a one-man comedy show called, Manic Impressive.
Comedian Gary Gulman calls him, "Ahead of most comedians his age," Myq Kaplan says "A supremely kind, creative and highly motivated man," and his older sister calls him "An idiot man-child with no sense of survival skills. Why did you bring him on this camping trip, Karen?"